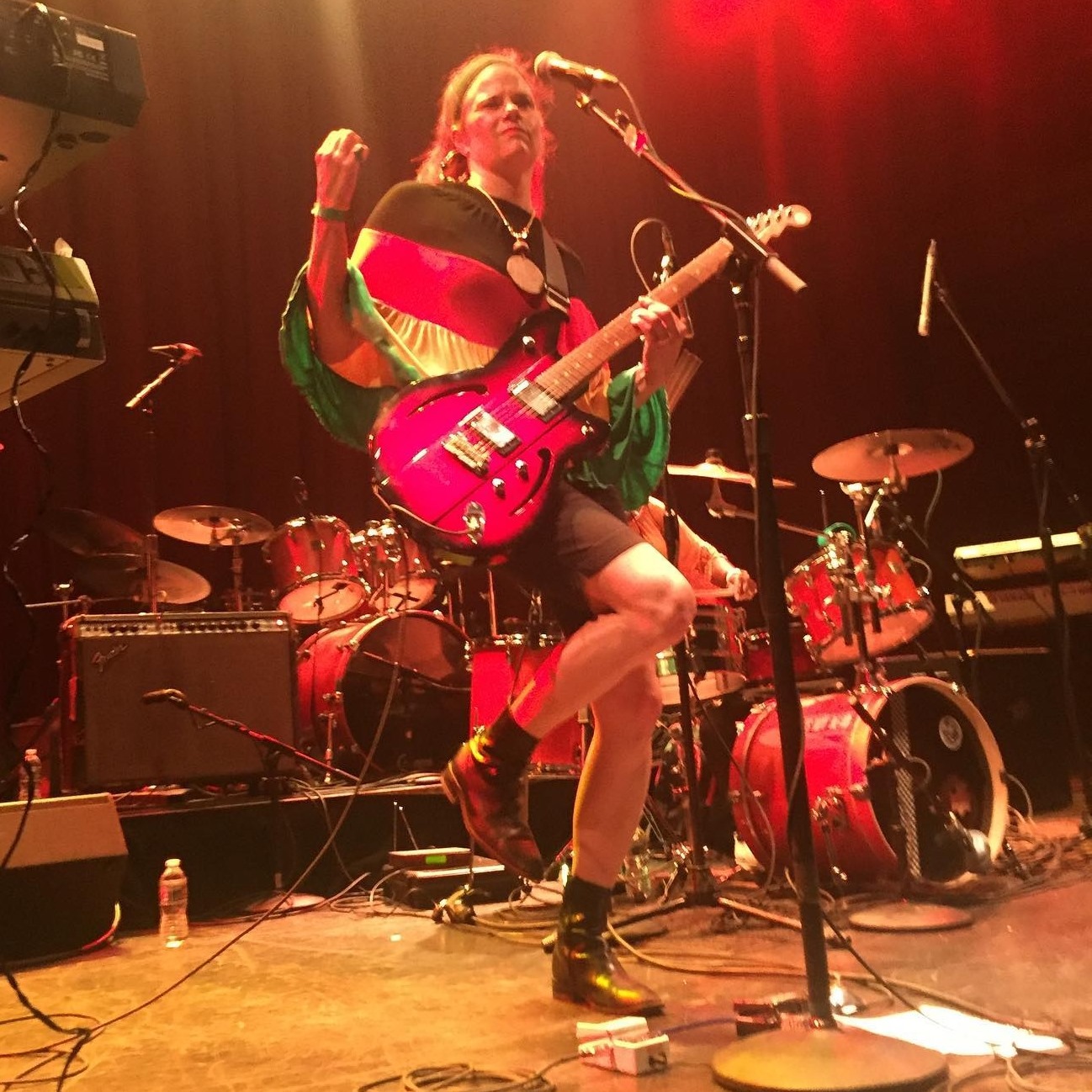 Kristin Forbes was born to be a musician. A distant relative of the composer Tchaikovsky, she has been playing music since she was three, when she heard a song on the radio, went to the family piano, and figured out how to play it. She started playing guitar in high school and in college, upon playing in her first band, realized that pursuing music was the life she had to live.
She recorded and toured as a solo artist for years in Boston before moving to Washington, DC to play keys with The Travis Morrison Hellfighters (frontman of The Dismemberment Plan). It was in DC in 2005 that she met Olivia Mancini and picked up bass to play in her band, Olivia Mancini & The Mates, which she performed in faithfully for 15 years. She also went on to play bass in The Andalusians, who have a 7" on DC's seminal punk label, Dischord Records.
Kristin now lives in Baltimore and has rediscovered her love for playing Jamaican music. Dubbed Lady Hatchet by her peers, Kristin is the fearless leader of The Scotch Bonnets, her punky reggae band that also serves as an outlet for her song-writing. Over the course of their 13 year career, the Bonnets have released two full length albums (Live Ya Life, self-released in 2013 and Come On Over, released on Jump Up Records in 2019), an EP (Quest, released on Morphius Records in 2014), a 7" single (The District, released on Jump Up Records in 2017), and have tracks on numerous compilations. The band backed and recorded with HR, singer from Bad Brains, and twice toured backing Roddy Radiation, lead guitarist of The Specials. The band has toured regionally every year since 2014 and in 2019, they embarked on two cross country tours, once in February to open for American ska founders, The Toaters, and again in June to play the Victoria Ska & Reggae Festival in Victoria, BC. Later that fall, they went out with The Toasters again for a southeast run. In the wake of the Covid-19 pandemic, The Scotch Bonnets embarked on a successful all-outdoor Midwest tours in 2021 and 2022.
She also considers herself "the utility infielder" in Baltimore's premiere ska-reggae band The Players because with them, since 2008, she has played guitar, bass, even keys when necessary! She also plays in the only all-female, roots-reggae crew, Strykers Posse: Sistren In Power. During the pandemic, she helped start Rude Girl Revue, an all-female all-star ska band that played headlining festival gigs around the US and UK in 2022 and is slated to return to the Supernova Ska Festival again this year.
In 2011, Kristin spent a month on the Vans Warped Tour playing with Angelo Moore, singers/saxophonist from Fishbone, and the songs they wrote during this collaboration were released in 2015 on the Japanese album Ska Do Au Ska Don't. Kristin spent time in 2013 in the band of NYC ska capo King Django, and in 2015 she filled in on guitar with NYC's longtime Jamaican music stalwarts The Slackers on their European and Canadian tours. In 2018, she subbed for DC ska-soul hooligans, The Pietasters on keys and later traveled to Mexico to fill in with The Toasters for a week on bass.
In 2022, she was The Slackers' first call to sub for them again on guitar. She also expanded her solo act, opening for The English Beat at the historic Birchmere club in Alexandria, VA, as well as touring Europe by herself, playing the Big One 20 Festival in the UK and travelling by train from city to city to play club gigs on the continent.
Kristin is proud to be endorsed by Reverend Guitars.
Kristin has also been teaching music lessons for 15 years. When filling out tax forms and loan applications, Kristin is very grateful to write "professional musician" on the occupation line.